Saint Kitts & Nevis Dredging and Marine Services
Southern Dredging and Marine offers professional hydraulic and mechanical dredging and sediment removal and sludge in St. Kitts. We will provide a comprehensive quote and methodology report and bring the equipment required by your job and location. We can also bring our own floating man camp for remote locations. Call us today to learn more at 770-831-8111.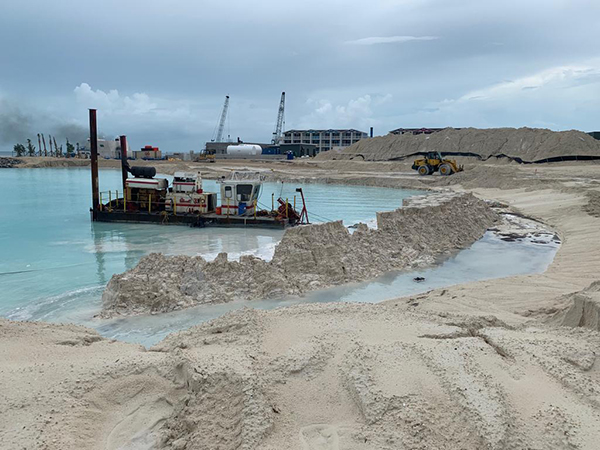 St. Kitts & Nevis Dredging Contractors
Southern Dredging & Marine provides commercial and industrial dredging for projects in the island of St. Kitts or Nevis. We will bring the dredging equipment that fits the client's project depth and volume requirements, and the dredges will be equipped with GPS Dredging Software systems to accurately record the quantities of materials removed and location. We dredge rivers, channels, harbors or marinas to safely allow boats safe navigation. Our dredging equipment is fully transportable and can relocated to your project in St Kitts or Nevis quickly. We have successful solutions for turbidity and silt control.
Saint Kitts and Nevis is a dual-island nation located between the Atlantic Ocean and Caribbean Sea. It has beautiful green mountains and beautiful beaches. Sugar plantations from the past have been turned into inns or tourist ruins. Saint Kitts is has a dormant volcano,Mount Liamuiga.
Southern Dredging & Marine can help you determine the best dredging methodology to complete your project and save money. Contact us today for a free estimate on your next project at 770-831-8111.
Hydrographic Surveying in Saint Kitts and Nevis
Southern Dredging & Marine uses GPS equipped hydrographic survey systems marine hydrographic surveying in the St. Kitts, Nevis and other regions of the Caribbean.  Also, our dredging projects need hydrographic surveys before dredging to determine water and sediment depth and another survey once the dredging has been completed to verify the amount of sediment dredged for the clients records.
Offering Marine Dredging & Dewatering Saint Kitts & Nevis
Our marine dredging services for St. Kitts and Nevis include maintenance, land reclamation services, channel deepening and more. Contact us for a free quote on these services at 770-831-8111.
Geo Textile Tubes & Bags Design and Installation
GeoTextile tubes are a great way to collect dredge spoils and repurpose them. They provide solutions for spoils recover, dewatering and beach renewl from dredging projects in St. Kitts or Nevis. Geotextile tubes are used to create breakwaters in water fifteen feet or less, and can help create solutions for shoreline erosion.
Southern Dredging & Marine can build breakwaters out of rubble mound, rip rap or geotextile tubes filled with dredge spoils and armoured with concrete mattresses.
We offer Dredging Services in Saint Kitts & Nevis
From time to time Southern Dredging & Marine will enter into a JV Partnernship with other contractor companies to expand our services offered for  a specific project. Our crew and subcontracgtors are thoroughly qualified and trained and abide by all our professionalism required of our employees.
Get a Quote For Your Project

Marine Dredging & Construction, Breakwaters, Beach Restoration, Geo Textiles Tubes