Dredging Caribbean Bahamas
Dredging, Land Reclamation, Breakwaters
Our dredging services are provided throughout Florida, Georgia, the Carolinas, Alabama and Louisiana, as well as the Bahamas and Exumas, and the Caribbean Islands including Dominican Republic, Cayman Islands, Trinidad & Tobago, St. Lucia, Barbados, Antigua, Anguilla, Aruba, Martinique, Grenada and Guadeloupe.  Call us for more information at 770-831-8111 or email us about your next project up for bid.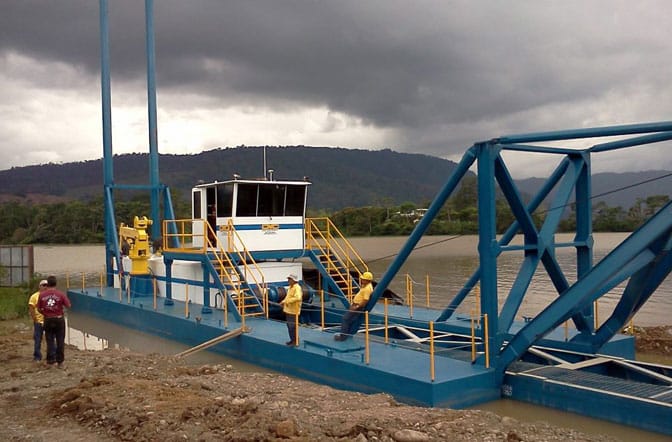 Dredging Services
Nassau and the Bahamas Islands include the Exumas, and together make up approximately 1,000 individual islands. Many of these islands are developed and inhabited. All are breathtakingly beautiful. Some have working marinas to allow ships entry to bring tourists, food, supplies and materials, while others are inaccessible.
Channels, Marinas and Harbors
We offer commerciall dredging in the Caribbean and Bahamas and can ship to your location with little notice.
Southern Dredging and Marine can help clear the unwanted silt or sand from your harbor, marina, river or any channel needing deeper depths to maintain the environment. We are available throughout the Bahamas and Exumas and can mobilize quickly to begin work. If a marine hydrographic survey has not been completed and is needed, we can help with that as well. Ask us about our other services offered, such as pile driving, dock building and marine construction. Call us today at 770-831-8111 to learn more about our services in the Bahamas and Exumas, or other Caribbean locations.
Maintenance Dredging in the Caribbean
The majority of the Bahamas Islands that do have marinas will require maintenance dredging at some point to remove the unwanted silt and sand buildup that naturally occurs throughout the Bahamas. Every year their navigational channels become shallower, creating problems for boat owners and marinas alike.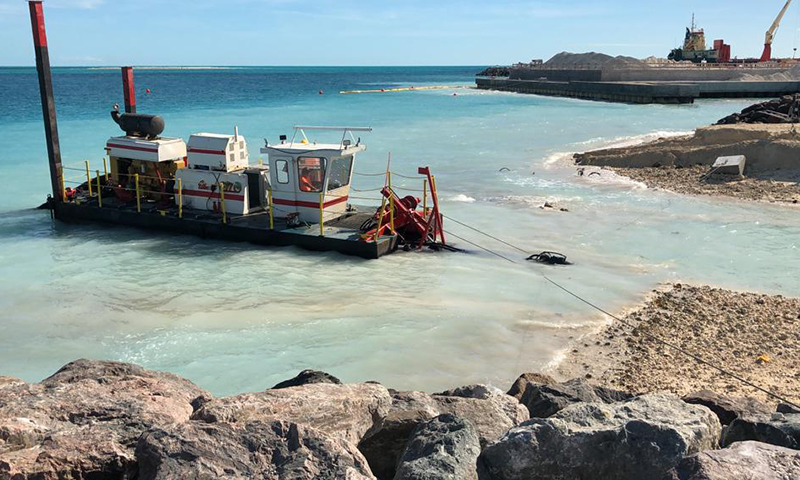 This creates the need for dredging every few years to remove the sandbars and other buildup. It is also possible the marina was originally dredged at one depth, but as their oasis has evolved, they are now in the need to have deeper waters in their marina.
The Bahamas
Paradise Island, Grand Bahamas Island, The Abacos, The Berry Islands, Bimini, Andros Island, Eleuthera, Harbour Island, The Exumas, Cat Island, San Salvador, Rum Cay, Long Island, Acklins, Crooked Island, Bell Island, Mayaguana, Inagua, Ragged Island, George Town, Staniel Cay, O'Brien Cay, Pasture Cay, Allan's Cay, Highbourne Cay, Norman's Cay, Hawksbille Cay, Warderick Wells Cay, Sampson Cay, Big Farmer's Cay, Alexander, Richmond Hill, William's Town, Jog Cay, Moss Town, Rolleville, Great Exuma, Emerald Bay, Conception Island, Inaugua, Samana Cays, Browns Cay, New Providence, Fowl Cay, Green Cay, Great Guama Cay, Samana Cay, French Cays, Cay Verde, Ragged Island, Raccoon Cay, LIttle Exuma, Half Moon Cay, Abraham's Bay, Orange Cay, Danger Cay, Flamingo Cay, Jamaica Cay, Seal Cay, North Cay, Jumentos Cays, White Cay, Tee Ca, Mangrove Island, Beacon Cay, Green Cay, Curley Cut Cays, Gorda Cay, Thomas Cay, Great Bersus Cay, Joulter Cyas, Crab Cay, Walker Cay, Calabash Cay, Billy Island, Beach, Cay, Sandy Cay, Big Whale Cay, Grand Cays, August Cay,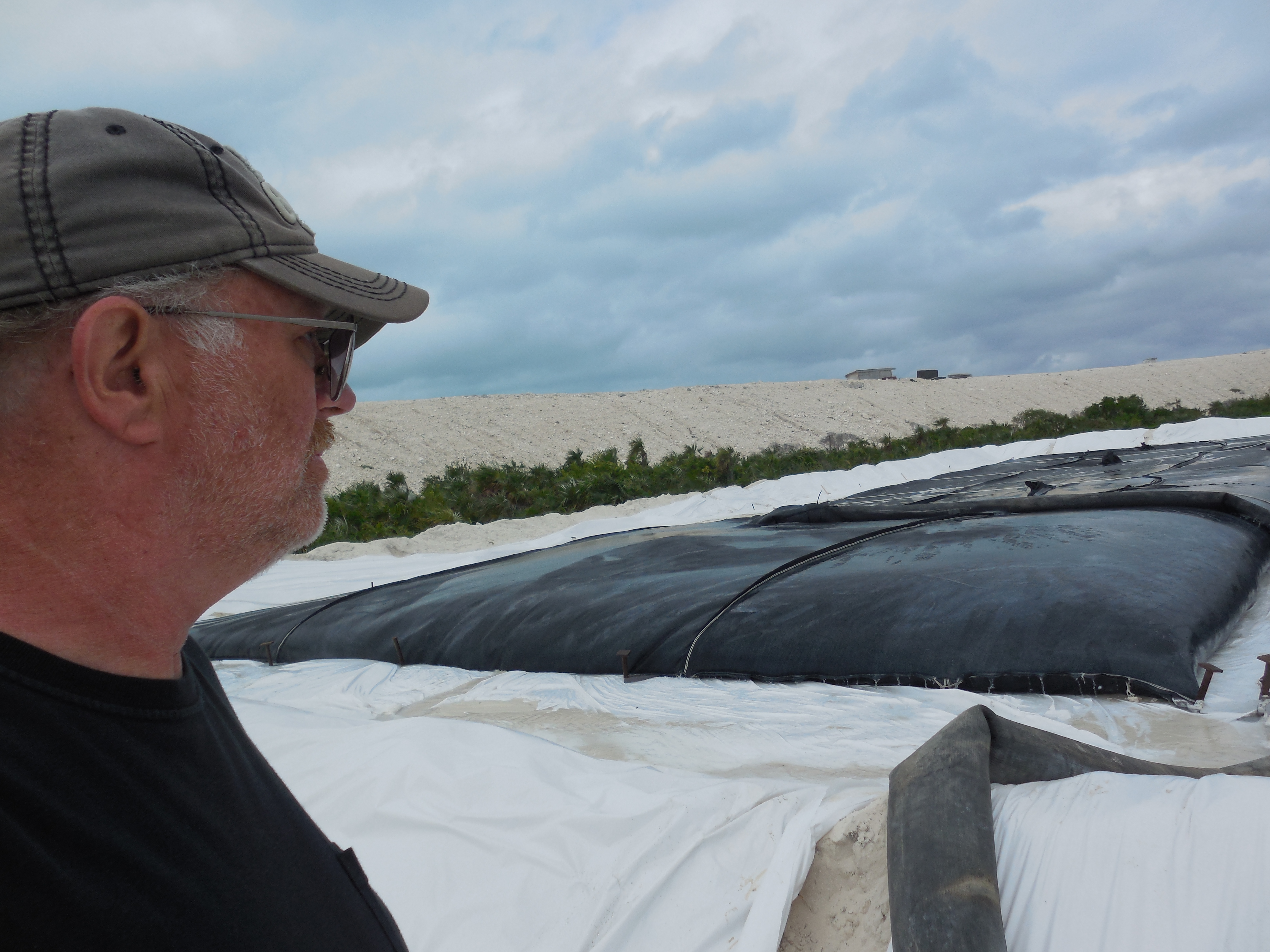 Geotextile Tubes
Southern Dredging & Marine has been successful in using geotextile tubes for dredging spoils, dewatering, beach renourishment and turbity control.
Call us today at 770-831-8111 to learn how we can help you stay on the good side of the government environmental agencies.
Caribbean Regions
Barbados, Bermuda, Aruba, Antigua, Trinidad & Tobago, Turks & Caicos, Bahamas, Exumas, Cayman Islands, Virgin Islands, St. Kitts, Jamaica, Puerto Rico, Martinique, St. Lucia and more.
Geotextile Tubes & Bags
Much of the Bahamas Islands is heavily regulated and controlled by the environmental agencies in order to keep the Bahamas and Exumas in their natural pristine state. One of the larger concerns with the environment and island development is the damage to the environment and it's natural habitats including marine and aquatic life. Southern Dredging and Marine can help you develop or maintain your property while at the same time satisfy the Bahamas governmental agencies in keeping the region beautiful.
Controlling Turbidity
The use of GeoTextile Tubes or Bags can be used to keep turbidity down. The dredging spoils are then captured in geotextile tubes instead of pumped back into the ocean or a cell dump. The spoils can then be reused to restore beaches or create new beaches.
We also use Turbidity Curtains or Booms to control turbiidty. Ask us about this option to help maintain the integrity of your environment and be able to obtain building permits. Keeping your environment pristine is the first goal of Southern Dredging and Marine.
Hydraulic vs Mechanical Dredging
The use of a hydraulic cutterhead dredge will help keep turbidity to a minimum as the spoils are easily sucked out of the dredging area and pumped to other locations. This method is much preferred over with an excavator mounted on a floating barge. When using mechanical dredging, Southern Dredging and Marine can employed Turbidity Curtains and Booms in order to help with environmental concerns.
Get a Quote For Your Project

Marine Dredging & Construction, Breakwaters, Beach Restoration, Geo Textiles Tubes