Geotextile Tubes
Dredging & Marine Contractors can install environment geotextile tubes and bags to hold the dredged spoils to dewater and dispose of spoils, or to relocate sand for beach reclamation and renourishment.
Geotextile tubes for the Southeastern United States, Bahamas and the Caribbean Islands
Dredging & Marine's Geotextile Tubes and Bags are used for maximum solids recovery, dewatering millions of gallons of sludge faster than older methods. Geotextile tubes are a price effective solution commercial for removing sludge from marinas, coastal waterways, lakes, rivers, and lagoons.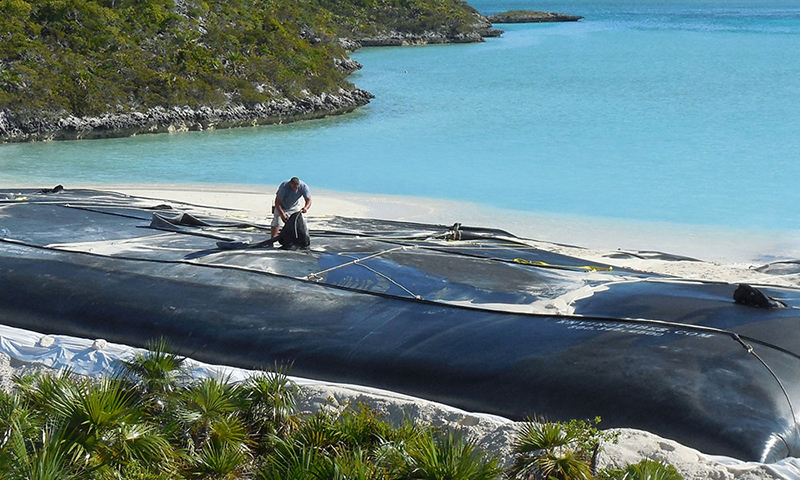 Created from high-strength woven fabric
They effectively remove solids and have become popular all over the world, using environmentally safe polymers. Excavated sludge can be used for beaches, landfills and creating new land mass. The Geotextile Bags and Tubes are filled through a port hydraulically, solidified with polymers and dewatered quickly. Once dewatered, the sludge has become solid and can be used for beaches or other new land mass.
.
Geotextile Tubes for Dredging
Dredging Spoils
Southern Dredging Geotextile Tubes can be filled hydrualically using a cutterhead dredge during a dredging project. The spoils from dewatering is sludge that is ported into the geotextile tubes, then dewatered when the water to seeps out of the porous woven fabric. As the geotextile tubes dewater ,the volume continually reduces allowing more of the spoils to be pumped into them. After dewatering, the tubes or bags can be cut open and the material removed to be used in the creation of new land, beaches, landfills or other applications
Environmentally Friendly
Our geotextile tubes and bags are weather and UV resistant. Clients can dictate the size of the bags needed and can be fitted into a certain area or stacked up to take up less room.  Our GeoTextile Tubes and bags are a very high quality.  We have great customer service, we have been told,  and strict attention to meeting deadlines. Southern Dredging & Marine Geotextile Tubes come in a neutral sand color or black, and the woven fabric is rip-resistant to minimizes any possible damage from storms, animal attacks or vandalism.
Highly Beneficial
Southern Dredging GeoTextile Tubes can companies money. Geotextile tubes and bags also take up less room and can be stacked up, even in a very small area, thus creating even more savings to the client. Contact us toll-free for a free quote at 770-831-8111. We can customize the geotextile tubes to fit the size you need. Our services for Southern Dredging & Marine are offered throughout the southeastern portion of the United States including Florida, Louisiana and Alabama, The Bahamas and the Caribbean Islands.
Disposing of Dredging Materials
Contact us for a free quote at 770-831-8111 or email us for more information. We can customize your Geotextile tubes to fit your specific job specifications. We offer a superior product at competitive pricing. Other areas of service are Anguilla, Barbuda, Grenada, Dominican Republic, Guadeloupe, Jamaica, Martinique, Montserrat and Suriname.
Get a Quote For Your Project

Marine Dredging & Construction, Breakwaters, Beach Restoration, Geo Textiles Tubes