Barbados Dredging & Marine Services
Southern Dredging & Marine offers Dredging in Barbados.
Southern Dredging and Marine specializes in dredging services throughout the Barbados Islands.
Our services include harbor and marine deepening, channel cutting, reservoir maintenance as well as dredging ponds, lagoons, shorelines and rivers including Bridetown.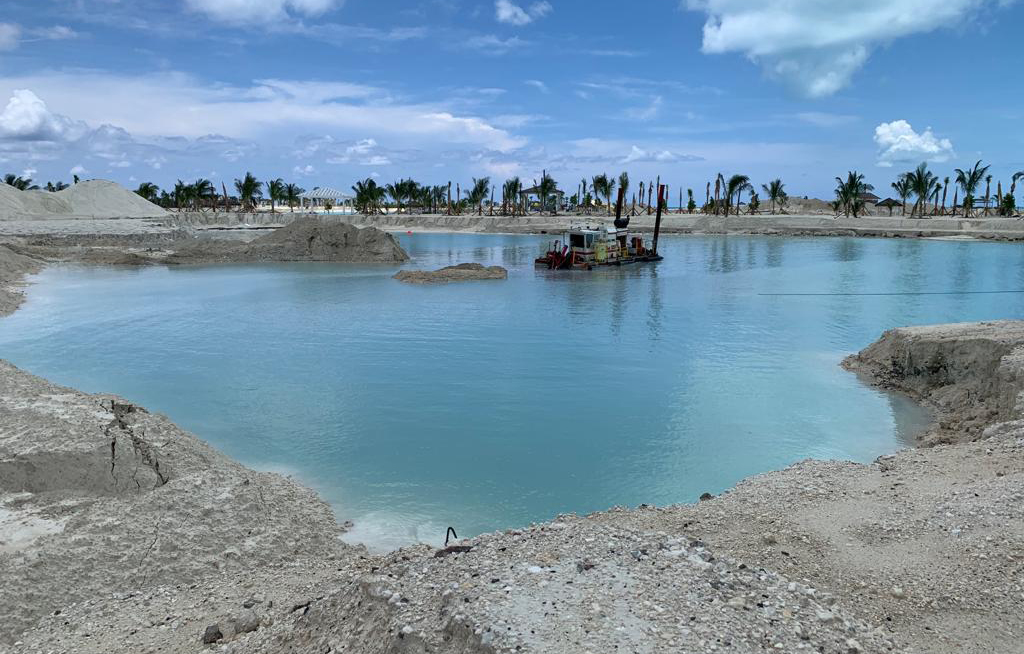 Southern Dredging & Marine offers hydraulic and mechanical dredging. Call for a quote and methodology proposal.
Dredging is the relocation of materials recovered from beneath the waters surface. Underwater sediments and soils can be used for construction and maintenance of waterways, dikes and transportation infrastructures and for reclamation and soil improvements. Dredging is vital to our social and economic development, our economic prosperity and social well-being depend on it because it is most importantly for construction and maintenance of much of our infrastructure. Dredging sediment and soil can be used in various products such as sand and gravel that is used in concrete mixtures.
We can provide you with dredging services for your next dredging project in Barbados. We offer dredging and sediment removal in Barbados. We also do toxins removal, desilting and aquatic plant removal in Barbados. We can do dredging projects of land reclamation, sludge and settlement dewatering in Barbados. Dredging projects of revitalizing marinas, restoring reservoirs and environmental site services in Barbados. Southern Dredging and Marine can do dredging to extend waterways, harbors and ports and inland waterways in Barbados.
Marine Dredging
Deepening Canals & Water Ways
Clearing Lakes & Rivers
Sediment Removal Retention Ponds
Creating New Land Reclamation
Shoreline Erosion Protection
Marine Hydrographic Surveys
About Barbados Dredging Services
Experienced Crews
Our crews are trained every level of the dredging industry. Our experience includes welding, mechanics, equipment operation, electrical and other skills that help ensure projects run smoothly and right on schedule. Our professional experienced staff, with innovative transportable equipment, methods and process, have made us a leader in the dredging industry in Barbados.
Quality Equipment
Our equipment is maintained regularly for preventative maintenance and our dredges are equipped with GPS Dredging Software. We carry containment kits. We provide professional services for your project in Barbados. We can help you convert wastes into resources in Barbados. We strive to create a useable resource in Barbados where only waste existed before – many times it can save our client's money in the process.
Fast Mobilization
Southern Dredging and Marine can complete any dredging project you may have in Barbados.
Whether your Barbados dredging, breakwater, or hydrographic survey project requires moving one to three million cubic yards of mud or the removal of sediment build up in a reservoir. We have the crew, floating accommodations, equipment and experience to get your dredging project done in Barbados.
To learn more about our services call us at 770-831-8111. We can provide you with a cost effective quote based on your hydrographic surveys and engineering drawings or feasibility studies if you have them already, or help you with any stage of your project.
From time to time Southern Dredging & Marine will enter into a JV Partnernship with other contractor companies to expand our services offered for  a specific project. Our crew and subcontracgtors are thoroughly qualified and trained and abide by all our professionalism required of our employees.
Get a Quote For Your Project

Marine Dredging & Construction, Breakwaters, Beach Restoration, Geo Textiles Tubes