Bahamas Dredging & Marine Services
Southern Dredging & Marine offers Dredging and Sediment Removal throughout the Bahamas and Exumas.
Southern Dredging & Marine offers commercial dredging in Bahamas. We have a wide variety equipment available to accommodate different dredging applications and various depths. We can dredge channels to make the harbor or marina more navigable. We also work in the USA including Florida, Alabama, Louisiana the Carolinas, Georgia, Bahamas including Exhumas and Nassau and all Caribbean Islands. Call us at 242-533-8306 or email us about your next project up for bid.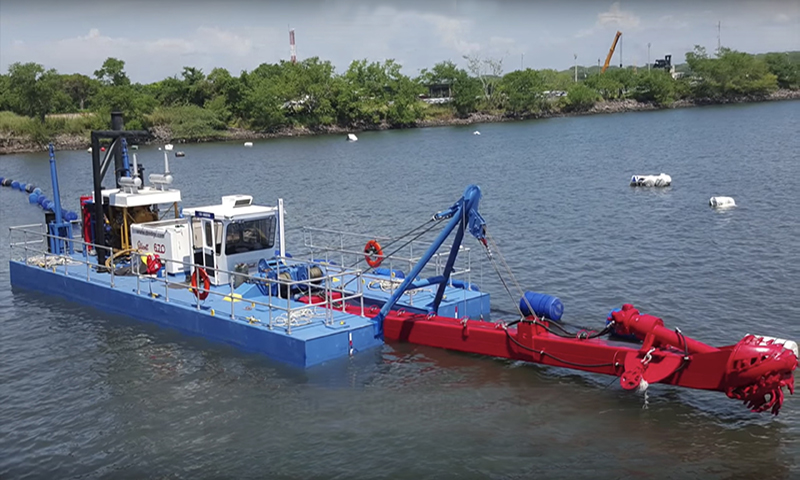 Southern Dredging & Marine offers both hydraulic and mechanical dredging. Contact us for a competive quote and comprehensive methodology proposal.
Our equipment is mobile and quickly transportable to you Bahamas Island. We have the experience to meet your project requirements and deadline needs. Southern Dredging & Marine can accommodate any Bahamas dredging project including dredging sand and sediment, desilting and dewatering, geotextile tube spoils discharging,  beach restoration, new land reclamation, harbor deepening, shoreline protection, environmental geotubes, waterways maintenance Dredging and more.
Whether your Bahamas dredging project requires removing a few million cubic yards of sand or silt,  or the removal of sediment on a smaller scale, Southern Dredging & Marine is ready get the job done in Bahamas.
The Bahamas
We serve all locations of the Bahamas including Paradise Island, Grand Bahamas Island, The Abacos, The Berry Islands, Bimini, Andros Island, 
Eleuthera, Harbour Island, The Exumas, Cat Island, San Salvador, Rum Cay, Long Island, Acklins, Crooked Island, Bell Island, Mayaguana, Inagua, Ragged Island, George Town, Staniel Cay, O'Brien Cay, Pasture Cay, Allan's Cay, Highbourne Cay, Norman's Cay, Hawksbille Cay, Warderick Wells Cay, Sampson Cay, Big Farmer's Cay, Alexander, Richmond Hill, William's Town, Jog Cay, Moss Town, Rolleville, Great Exuma, Emerald Bay, Conception Island, Inaugua, Samana Cays, Browns Cay, New Providence, Fowl Cay, Green Cay, Great Guama Cay, Samana Cay, French Cays, Cay Verde, Ragged Island, Raccoon Cay, LIttle Exuma, Half Moon Cay, Abraham's Bay, Orange Cay, Danger Cay, Flamingo Cay, Jamaica Cay, Seal Cay, North Cay, Jumentos Cays, White Cay, Tee Ca, Mangrove Island, Beacon Cay, Green Cay, Curley Cut Cays, Gorda Cay, Thomas Cay, Great Bersus Cay, Joulter Cyas, Crab Cay, Walker Cay, Calabash Cay, Billy Island, Beach, Cay, Sandy Cay, Big Whale Cay, Grand Cays, August Cay.
Marine Dredging
Geotextile Tubes Installation
Deepening Canals & Water Ways
Clearing Lakes & Rivers
Sediment Removal Retention Ponds
Hydrographic Surveying in the Bahamas
Using state-of-the-art GPS enabled hydrographic surveying equipment,  Southern Dredging & Marine offers you professional hydrographic surveying in the Bahamas.  Our services include hydrographic surveys for dredging projects to determine water and sediment depth, and sediment content. We also offer River and Coastline Mapping to enable ships to safely charter courses, and Sub Bottom Profiling to determine the water and sediment depth in the Bahamas.
Bahamas Marine Construction
Contact us about any marine construction services in the Bahamas you are planning include the following:
Marine Construction for Marinas, Harbors or Ports
Dock Construction
Marine Pile Driving Services
Marine Breakwater Construction
Geo Textile Tubes & Bags Design and Installation
Our environmentally friendly geotextile tubes or bags can be used for solids recovery in our dewatering services in Bahamas. Other uses for Geotextile tubes include Storm water detention ponds, dredging Sediment removal, retention Basin maintenance, ponds, reservoirs, lagoons, a cost effective solution for shoreline erosion control or breakwaters in waters fifteen feet or less.
To learn more about our services call us at 770-831-8111 or 242-533-8306. We can provide you with a cost effective quote based on your hydrographic surveys and engineering drawings or feasibility studies if you have them already, or help you with any stage of your project.
From time to time Southern Dredging & Marine will enter into a JV Partnernship with other contractor companies to expand our services offered for  a specific project. Our crew and subcontracgtors are thoroughly qualified and trained and abide by all our professionalism required of our employees.
Get a Quote For Your Project

Marine Dredging & Construction, Breakwaters, Beach Restoration, Geo Textiles Tubes