GeoTextile Tubes Installation
GeoTextile Tubes & Bags On-site Services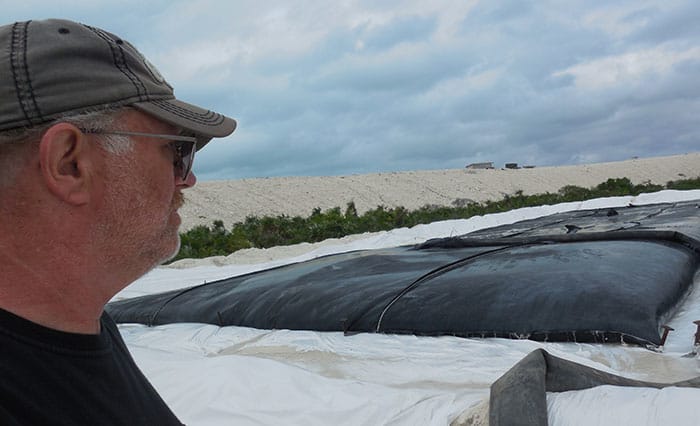 Professional Geotextile Tubes & Bags Installation
Southern Dredging & Marine Services offers installation of Southern Dredging & Marine Geotextile Tubes & Bags throughout Florida, as well as the Caribbean Island Region and Central and South America. By teaming with the design engineer, general contractor, and material manufacturer on each project, we ensure the proper product is specified and installed properly – and on schedule.
Installation of High-Strength Woven Geotextiles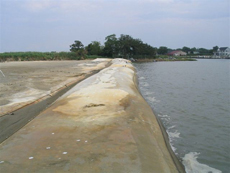 Southern Dredging & Marine Services can install high-strength woven Southern Dredging & Marine Geotextile Tubes on diverse sites in Florida, the Bahamas and the Caribbean Region. We developed and routinely utilize a semi-automatic rough-terrain seaming system that is capable of achieving consistent and uniform seams with unusually high efficiencies at substantially faster installation speeds than others in the industry.
On each project, prior to mobilization, fabric samples are test-seamed in our facility to ensure specified seam strengths are routinely achievable.
Additionally, Southern Dredging & Marine has the experience to seam and deploy the Southern Dredging & Marine Geotextile reinforcement systems for sludge lagoon closures.
Prior to the development of geosynthetics, construction of embankments and roadways on soft and saturated soils has always been very expensive. Because of the use of geotextiles, both woven and non-woven, engineers are able to layout structures more efficiently and economically, without having to demuck" areas containing unstable soils saving time and money.
By installing high-strength woven geotextiles, our stronger and more efficient sewn seams create a stronger and more cost effective reinforcement system in the U.S., Bahamas or Caribbean such as Florida, Alabama, Louisiana, Carolinas, Dominican Republic, Cayman Islands, Trinidad & Tobago, St. Lucia, Bahamas, Barbados, Antigua, Anguilla, Aruba, Martinique, Grenada and Guadeloupe.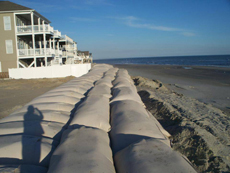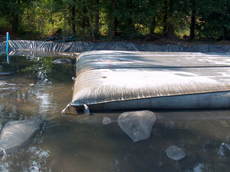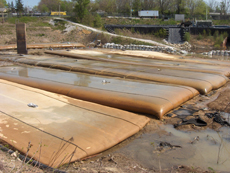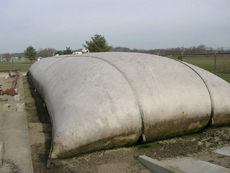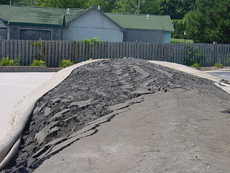 Southern Dredging & Marine can install sludge cap reinforcement systems in the United States, Bahamas & Caribbean. These systems can be installed in both wet environments (where a fabricated panel is floated across a wet lagoon) and dry environments (where the panel is sewn in place).
Since we often work at DOE and Superfund sites, in addition to other hazardous environments, Our field personnel are HAZMAT certified since we work with such hazards as PCB's, radiation, asbestos, heavy metals or elemental phosphorous. Southern Dredging & Marine can install geotextile fabrics, geogrids, and other polymeric products manufactured by almost every manufacturer in the industry in almost every environment imaginable. Although each site is unique, our vast experience allows us to approach each project with confidence as well as enabling us to assist other contractors on-site for the overall benefit of the project.
Our Geotextile's woven fabric is made exclusively for the  purpose of working with sludge, either as reinforcement for a sludge cap or as a geotextile tube for dewatering sludge. This highly specialized geotextile exhibits superb tensile strength, is capable of achieving unusually high seam efficiencies, has an extended UV life span, and is competitively priced. Our sewn Southern Dredging & Marine Geotextile Tubes will not separate when undergoing mud waves liek the lapped geogrids do. Southern Dredging & Marine Geotextile consistently outperform geogrids in soft soils.
Get a Quote For Your Project

Marine Dredging & Construction, Breakwaters, Beach Restoration, Geo Textiles Tubes