Grand Bahama Dredging
& Marine Services
Southern Dredging & Marine offers Dredging in the Grand Bahama
Southern Dredging and Marine specializes in dredging services throughout the Grand Bahama including Freeport, High Rock, Pelican Point, Bain Town, Riding Point, Old Freetown, New Freetown, McLean's Town, Gambier Point, Gold Rock, Bevans Town, Eight Mile Rock, Rocky Creek and Thomas Town.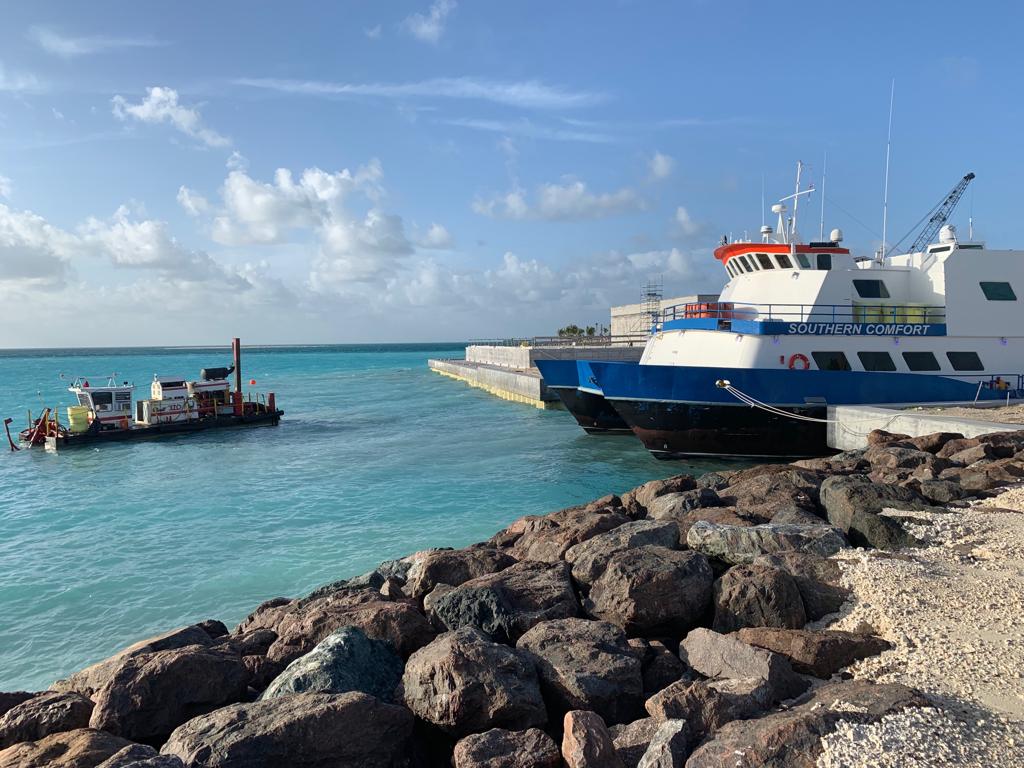 Southern Dredging & Marine provides hydraulic and mechanical dredging in Grand Bahama and Freeport, call 770-831-8111.
Dredging in the Grand Bahama entails removing digging and removing excess sand, silt and mud with a hydralic cutterhead dredge or an excavator with dredge pump. The spoils are pumped into a cell, holding area or geotextile tubes for dewatering. Dewaterd dredge spoils can be used for new land, breakwaters, beach renewal and other beneficial land improvements. Grand Bahama Dredging is vital to keeping the beaches in tact, lakes and rivers navigatible and marinas able to accommodate ships. Dredging sediment and soil can be used in various products such as sand and gravel that is used in concrete mixtures.
We offer professional
dredging services
for your project in Grand Bahama and Freeport including sediment and toxins removal, desilting and aquatic plant removal. We also offer land reclamation, sludge and settlement dewatering, marina dredging and deepening, silt removal from lagoons or reservoirs, and geotextile tube installation for dreedge spoils and erosion control. Southern Dredging and Marine can extend waterways, Freeport or other shoreline locations in the Grand Bahama. We have proven techniques for silt control as well.
Visit Grand Bahama Cays
Sweetings Cay, Big Harbor Cay, August Cay, Little Harbor Cay, Lightbourne Cay, Michael's Cay, Deep Water Cay, McLean's Town Cay and Crab Cay
Marine Dredging
Canals & Water Ways
Lakes, Rivers and Lagoons
Sediment Removal
About Grand Bahama Dredging Services
Expert Crews
Our highly trained crews know the dredging industry and have many years experience. We can work in remote Bahamas areas and make repairs on site ensure projects run smoothly and stay on schedule. Our equipment changes with each project requirement and is transportable to your location in Freeport and other areas of Grand Bahama.
Professional Equipment
We offer both hydraulic and mechanical dredging equipment, and our dredging services are tracked with GPS Dredging Software. For spilsl protection, we bring containment kits. We can capture dredge spoils with GeoTextile Tubes, dewater them, then transport them to beaches in need of beach restoration and reclamation, or create new land in areas.
We Are Ready to Mobilize
Southern Dredging and Marine is ready for any remote area in the Grand Bahamas to begin your next dredging project. Whether your Grand Bahama dredging, breakwater, or hydrographic survey project requires moving one to three million cubic yards of sand, we can bring our own self contained accommodations, if needed.
To learn more about our services call us at 770-831-8111. We can provide you with a cost effective quote based on your hydrographic surveys and engineering drawings or feasibility studies if you have them already, or help you with any stage of your project.
From time to time Southern Dredging & Marine will enter into a JV Partnernship with other contractor companies to expand our services offered for  a specific project. Our crew and subcontracgtors are thoroughly qualified and trained and abide by all our professionalism required of our employees.
Get a Quote For Your Project

Marine Dredging & Construction, Breakwaters, Beach Restoration, Geo Textiles Tubes