Environmental Friendly Protection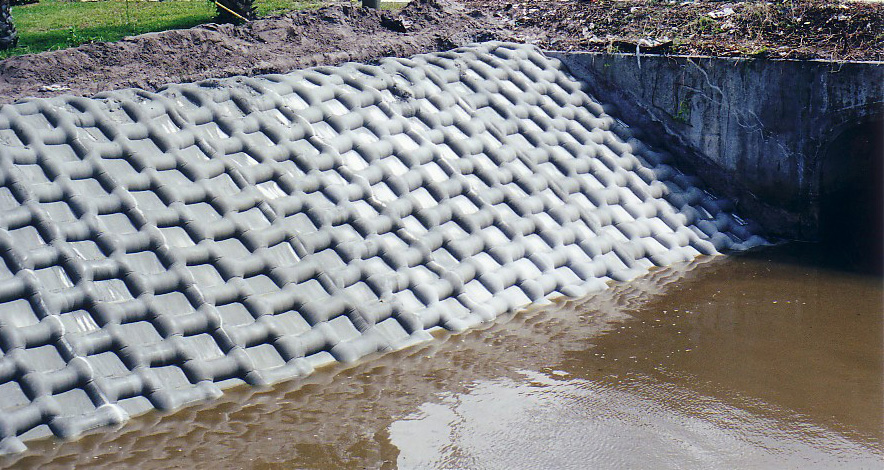 Concrete Linings
GeoTextile Concrete Linings offer environmentally superior protection from occasional high water flows.
Installation of High-Strength Woven Geotextiles
Installation is minimal and requires little manpower. Plants can be added on concrete lining for an evironmentally pleasing effect. Our Concrete Linings can be intalled in drainage ditches and on the banks of channels, rivers or canals, reservoirs and other structures where runoff can be an issue.
Concrete Linings are made up of concrete filled GeoTextile fabric sections and with patterned voids where vegetation can be grown. After filling with the concrete, voids can be cut open to filled with topsoil and either seeded or planted. This effectively creates an attractive erosion control system that can withstand severe weather and environments as well.
Learn more about how our GeoTextile concrete filled fabric forms can help you solve problems with erosion control, bank stability, drainage channels, breakwater armoring and protection and more. Our systems are very portable and lightweight making shipping cost effective. Installation is simple so manpower is kept to a minimum. And their effectiveness has proven over and over to exceed older more expensive methods. Contact us to learn more by emailing us at .info@southerndredgingandmarine.com or call us at 770-831-8111.
Get a Quote For Your Project

Marine Dredging & Construction, Breakwaters, Beach Restoration, Geo Textiles Tubes