Vibratory Hammer Pile Driving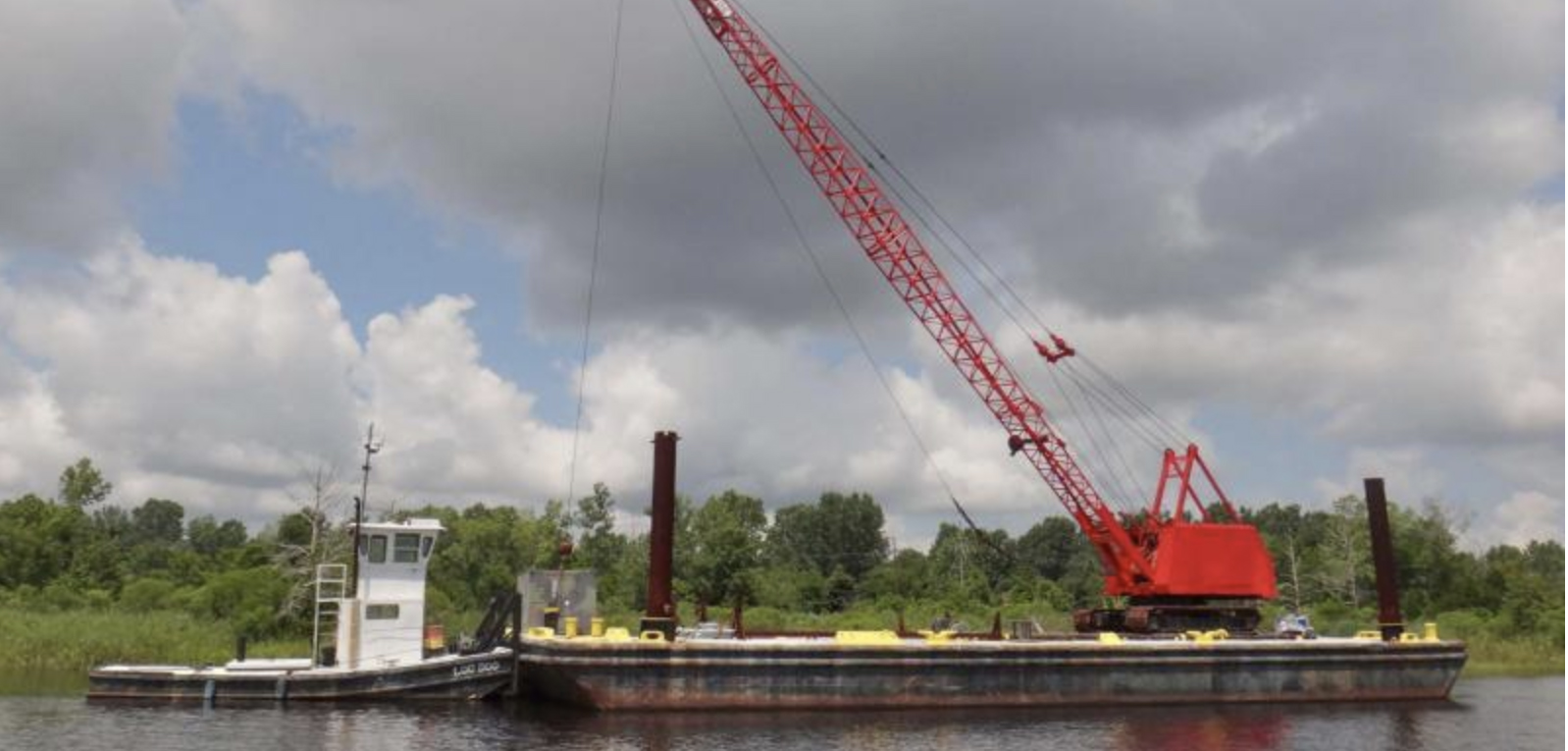 Pile Driving Services
Our marine construction service includes pile driving and pile foundations services in Florida, Georgia, Carolinas, Louisiana, Alabama, Bahamas and the Caribbean.
Marine piling and pile foundation services include installation and design of steel sheet piling, mini piling, micro piles, pipe piles, steel and timber piles, row headroom piles, rotary drills piles, caissons and mini caissons.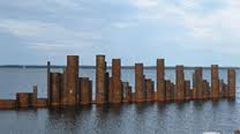 We are a fully equipped to take your marine piling project through all the stages of construction, from concept, through designing and permits to professional installation. Add your dredging project to our pile driving services and we can handle your next project as a turnkey project. All our dredges are fully equipped with state-of-the-art GPS equipment for accurate project recording and reporting.
Southern Dredging & Marine also offers dock building solutions beginning with the dock design, obtaining permits, and the actual construction of your new dock, providing durability even for those with high bank waterfront and exposed location. All dock systems we build are unique and designed to accommodate the needs of the location and needs of the customer, and are built to last.
Southern Dredging & Marine offers retaining walls, bank reinforcement and hillside and slope remediation. We can shore up your shoreline with a retaining wall and help prevent slope movement and erosion, or provide vertical or near vertical grade changes. Our walls are made from stone, concrete, steel, masonry, vinyl or timber. GeoTextile Tubes can act as an anchoring system to stabilize hillsides and stop erosion. Custom designed retaining or seawalls can before  residential or commercial applications. Southern Dredging & Marine offer services for both land or sea.
If you have deteriorating concrete, we can restore or reconstruct the concrete structures as well as replace piers and piles that have suffered from waterfront erosion. Our marine piling services include reinforcing and pouring concrete in many shapes within the challenging marine environment. We can also create concrete breakwaters, install or repair bulkheads whether commercial or residential. If you are interested in armour blocks for breakwater or bank enhancement, we can pour concrete to create the blocks, and install them at your job site.
We offer installation of all types of piling including installation of sheet piles, H piles, pipe piles, wood piles and cast piles, plus various types of piles using impact hammers or vibratory. We can assist engineers and architects in conducting load bearing tests to develope specific design criteria for foundation piles.  We offer installation of piles for retention walls, docks, cofferdams, foundation piles, batter piles; pre cast piles, seawalls, jetties and deflection wall with marine based or land based equipment.
Marine & Land Based Services
Our services for Southern Dredging & Marine are offered throughout Florida, Carolinas, Louisiana, Alabama, Georgia, Bahamas and the Caribbean. Our pile driving service provides foundation support for buildings, docks, marinas and marine structures. We employ the standard method of pile driving that places a heavy weight between guides where it can freely stand along a single line, then fitted to a pile. Using hydraulics, the weight is raised and dropped into the pile pushing it into the ground. Methods used to raise the weight to guide the pile including hydraulic hammer, hydraulic press-in, diesel hammer and vibratory pile drive/excavator.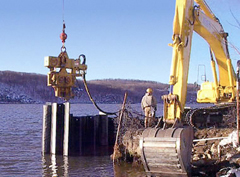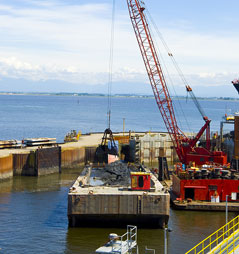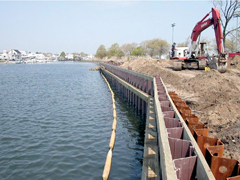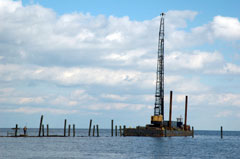 Pile Driving Diesel Hammer
Diesel hammers are two-stroke diesel engines that have the weight in the piston, and the cylinder connects to the pile. The weight is lifted by cable,  a crane holds the pile driver, forcing air into the cylinder. Dropping compresses the air, heating it to ignite the diesel fuel, injecting into the cylinder, causing transfering the energy to the pile head, forcing the weight back up.
Hydraulic Hammer
To drive steel pipe precast concrete or timber piles, hydraulic Hammers are used. Because hydraulic hammers are quieter and emit less pollutants, thus more environmentally friendly, they are more popular today.
Vibratory Pile Driver
Vibratory hammers can both drive or extract the pile. Extraction is used in recovering steel H piles that were placed for temporarily shoring the foundation. The diesel engine powered pump supplies the Hydraulic fluid to the driver head by hoses and powers the excavator's diesel engine. Vibratory pile drivers create less noise and employed many times when vertical clearance above the foundation prevents the use of a conventional pile hammer.
Get a Quote For Your Project

Marine Dredging & Construction, Breakwaters, Beach Restoration, Geo Textiles Tubes